PROPERTY MANAGER AWNINGS & CANOPY NEEDS
Whether you are a property manager building a new retail site, handling an expansion project at a medical/educational campus, or updating a building, you can trust Baltimore Canvas to deliver multiple canopies that will enhance the buildings, and exceed everyone's expectations.
Baltimore Canvas works closely with property managers on awning projects to ensure on budget and stress-free projects. We are here to support you.
Commitment We are committed to fabricating quality awnings that will not only last but are also functional and aesthetically appealing.
Design Process Our design process offers you a wide assortment of colors, styles and textures
Computer Generated Renderings to help you visualize how the custom canopy or commercial awning will look
Services Provided:
Franchise Canopies

Serving national and regional franchises. Every day we meet the demand for custom made fabrics, critical time constraints, and quality products.

Shopping Malls We offer

bra

nded awnings for large scale shopping centers with needs for 100+ awnings. Learn more
Mixed Use
Outdoor Seating Areas Restaurant awning and shade coverings Learn More
A Wide Variety of Awnings: metal awnings, fabric awnings, architectural awnings, standing seam awnings, Airfoil sunshade and more.

Awning Replacement

We can survey your shopping center

or

property to determine where replacement awnings and updates are needed.
We have successfully completed countless projects under the direction of Property Management Companies and we know what it takes to earn your trust and confidence.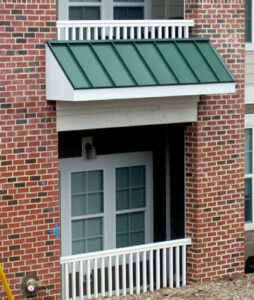 Another Property Manager's Problem Solved:
A permanent metal canopy that couldn't be damaged by smokers was needed to complement the existing wood. Standing seam metal was used on the roof and flat metal on the front and sides.Installed at Towson Commons
PROJECTS with Property Managers