Commercial AwningS for Shopping Centers
Baltimore Canvas has decades of experience working on retail development projects in the MD, PA, DE, VA and D.C. area We create a simple and stress-free process and have handled large scale projects of 100+ awnings.
We work closely with architects, general contractors and property managers on awning projects for shopping centers. Baltimore Canvas provides expert service and makes a great partner for problem solving with our technical and installation experience. We can provide:
Branded awnings for large scale shopping malls
High-quality metal awnings
Standing seam metal awnings
Fabric awnings
Awning and metal coverings for outdoor seating areas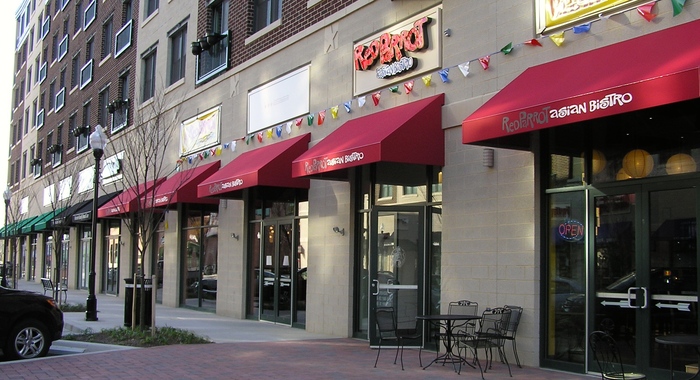 Baltimore Canvas provides commercial awnings that solve the two main shopping center issues:
• The need to promote the entire complex, making it visually appealing and welcoming for shoppers to visit.
• To also reflect the individual needs of tenants, ensuring each store can make effective use of their own logo and design motifs, so they, too, are quickly recognizable.
We can help to develop the business environment in shopping malls, through our experience and understanding of outdoor canopy and awning products.
Can contribute to lowering business energy costs
View our photo gallery for more shopping center photos.

Contact Baltimore Canvas today about your awning quote at 410.947.7890 or email info@baltimore-canvas.com.
Our Trusted and Preferred Brands of Metal Canopies
For the scale and needs of a shopping center we turn to quality canopy and awing products that meet higher expectations and performance requirements of the commercial building industry.
• Mapes – the Industry Leader In Architectural Canopies 
• Ballews and other brands for more affordable options and variety
Shopping Center Project: Village of Leesburg, Virginia: We installed over one hundred awnings including the arch entrance awning covering the bridge.
Shopping Center Project: Ocean Landing shopping center with standing seam and fabric awnings pictured